---
Ref.:

Sex:

Sire:

Height:

Born:

Breed:

Colour:

Unicorn aka Ubago

Gelding

Orion VIII

152 cm

2005

PRE

Light grey
White Mane and tail
Conformation:
Good proportions, good looking and a lot of horse under the rider despite his modest hight.
Character:
Very friendly and sensitive horse, who loves attention. Easy in the stable and out in the field. He is everybodies friend, not dominant or low ranking.
Movements:
Excellent walk and trot, good strives, forward going over the ground. Gets the backpart well in under himself; carries himself well. Comfortable canter.
Flexible and elastic together with his wish to please gives him a potential for dressage.
Surefooted, fast mover with a lot of strength and stamina.
Schooling:
Basic; walk, trot, canter. Lateral movements seems easy for him.
Unicorn is looking for a kind and firm rider over mid level who enjoys goog hacks and good cooperation in the school.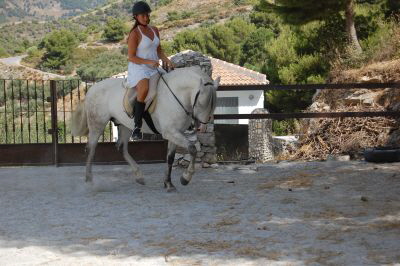 ---