---
The lovely andalusian horses at Los Caballos del Mosquin are ready to take you out for a ride this summer. Situated between Competa and Canillas de Albaida in the Axarquia region, right on the doorstep to the natural park; "Sierras Almijara and Tejeda" - with a look to la Maroma to the one side and the mediterranian on the other side, Los Caballos del Mosquin offers a variety of horseriding experiences.




Even if it is high summer here, Los Caballos del Mosquin offers diverse possibilities for horseriding during the summer season. You can enjoy the day riding out early in the morning or enjoy sunset from the back of a horse on tracks out in the beautiful national park.
For the unexperinced rider Los Caballos del Mosquin offer shorter rides out in the terrain every day, and for the rider seeking more challenges - besides the daily tours, there are special rides out - like for instance the "BuenaVista Ride" -every saturday and sunday. This is a half day ride with a picnic stop.
Do you feel a little rusty with your riding skills Los Caballos del Mosquin also offer a "brush up" in the new and bigger riding school. Many riders like to combine the two things and that can be a lovely combination of a little more tempo in the school and a very relaxed riding out in the nature of Andalucia.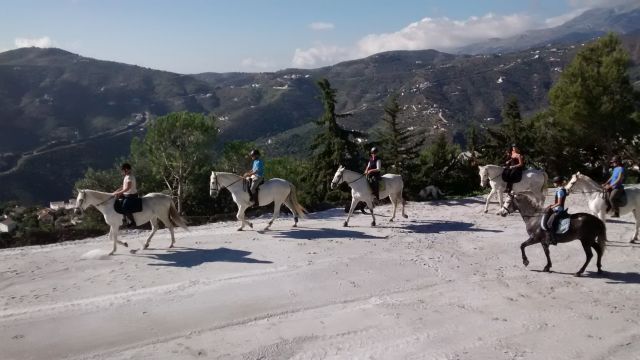 We did not plan for any foals this year at Los Caballos del Mosquin, but our mare Farina looked a little out of shape, and when our vet found the mare pregnant with a possible new foal in July, everybody was really surprised when a lovely filly was full born on March 14th.
Come and meet our "Sorpresa con H" - the sweetest foal of the year, and have a coffee or a refreshment under the Algarrobo tree.